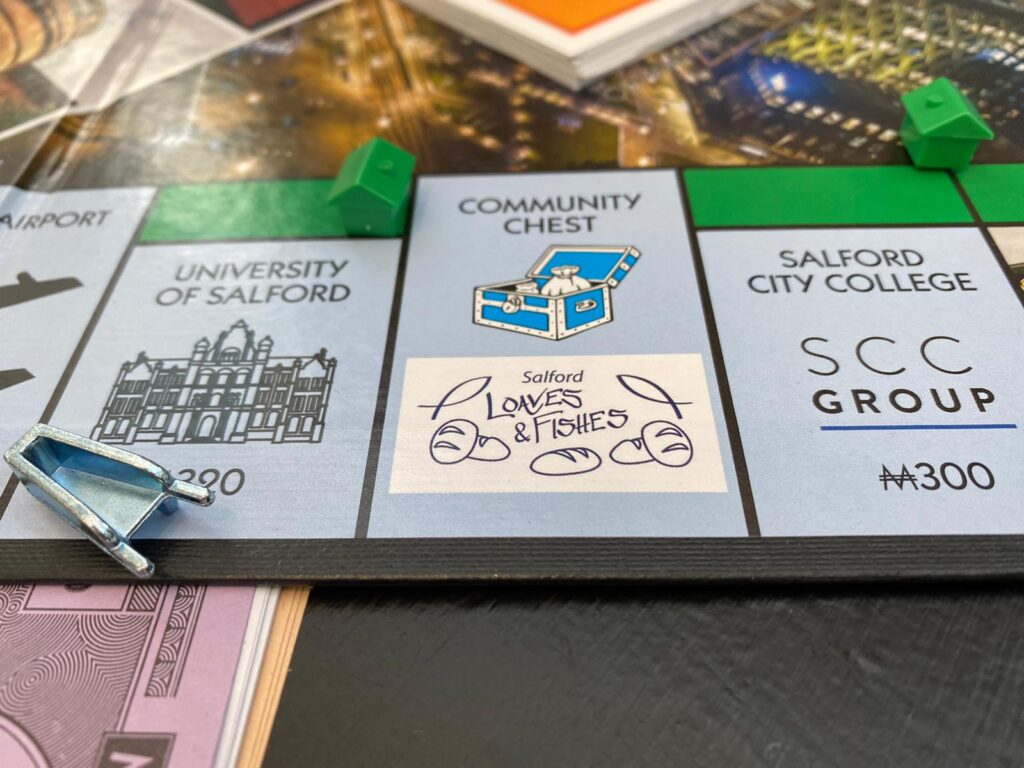 The very first Salford charity to feature on the brand new and official MONOPOLY board for the city is being announced tomorrow (Thursday 29th July 2021).
It is, in fact, the very first of any Salford organisation to be revealed as 'Passing GO'. And also the date the game hits the shops is being revealed too.
The charity is Salford Loaves and Fishes – one of three charities that will feature on the board, which is out on 13th October.
In the new game both the squares and cards will take on a Salford flavour and feel. So OUT will go the classic names like Mayfair and Park Lane and IN their place will come the city's leading crown jewels like MediaCityUK, the University and The Lowry.
Jonathan Billings, Chief Executive Officer at the charity, says:
"Salford Loaves and Fishes are delighted to be featuring on the new official Salford version of MONOPOLY.
"Thank you to everyone who nominated our charity for this brilliant opportunity. We are very proud to be one of the many brilliant Salford charities that do such positive work across the borough."
Salford Loaves and Fishes – set up in 2006 and based on Paddington Close in the centre of the city – is a resource centre for homeless and vulnerable people that actively both supports people off the streets – as well as trying to: prevent people from becoming homeless. It has in-house NHS staff who are able to address mental and physical health needs as well as lots of other services. More information can be found at: www.salfordloavesandfishes.org.uk
At the time of March's announcement that Salford is 'Passing GO', makers of the game Winning Moves UK invited the public to suggest not only landmarks of the city to star in the game , but also charities too. "Inviting Salford charities to feature in the game is our way of thanking the public for getting behind the game so very enthusiastically," says a MONOPOLY: Salford Edition spokesperson.
The other charities that are featuring on the board will be revealed when the game is released on Wednesday 13th October (2021), when it hits the shops. The following major stores have confirmed they will be stocking the much-anticipated game: Asda, Waterstones, WH Smith and The Works. The game will also be very widely available online including on Amazon.
As well as the charities, in all a further 30+ Salford landmarks and favourites will be showcased in the game. Over the last 20 years Winning Moves UK has produced official versions of MONOPOLY .. from Dubai to Dublin and Sydney to Stirling. Now the dice is rolling upon Salford.