The Drop In Centre has a committed and enthusiastic team of volunteers and are always keen to recruit new people.
We offer a safe and supportive environment with regular ongoing training and supervision and are committed to the personal development of our volunteers. During the year we provide a number of opportunities for social events as a thank you for all the hard work of our volunteers.
We value our volunteers, without whom the centre would not be able to function.
If you would like further details about volunteering opportunities please contact the office on 0161 737 8775 or download and fill in the application form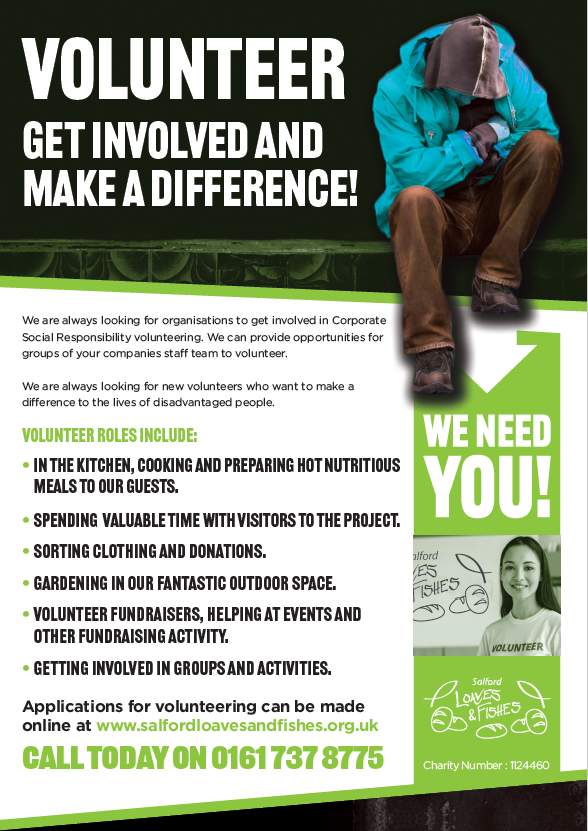 Tasks performed by volunteers:
Assisting in the kitchen and serving food and hot drinks
Befriending and listening to clients
Supervising areas such as toilets/showers and lounge
Maintaining high standard of cleanliness within the building
Manning the laundry and assisting clients with their laundry
Greeting visitors, receiving/logging food and clothing donations
Sorting and storing food donations in the food storage areas
Manning and keeping tidy the clothing store
Assisting in the office with general admin tasks
Supporting client activities e.g. bingo, reading group, first aid, job club etc
Help with the cleaning down of the centre at the end of the day
Supporting clients with use of telephone
Assisting support work team, as directed by designated staff
We are also looking for volunteers with fundraising skills or ideas to support the fundraising team and/or Friends Group
If you have any of the following skills i.e. in Human Resources, Finance, Management, Policies, Welfare, Funding, Managing Budgets etc and would consider joining our Board of Trustees, please include this on your application
Your commitment to the centre
To agree to a short induction programme.  This will include some advice on health and hygiene issues, fire safety etc. as well as a look round the centre.

That you will make contact with the volunteer co-ordinator in the event of illness, holidays, absences, etc.

To make a firm commitment to work regularly in the Centre (whether this be on a weekly or fortnightly basis).

To follow guidelines when given by staff members in the centre.

To work within the centre's Policies and Procedures and to subscribe to its aims and objectives.
During the shift there will be a minimum of two staff members working with at least four volunteers.  A supported and supervised environment will be provided.

One to one support by the Volunteer Co-ordinator on request

Your training needs will be seriously considered and met if at all possible.

To be able to take holidays or time out (please give notice of at all possible)

That during the course of the year we will provide a number of opportunities for social events for the whole team e.g. team training opportunities, Christmas social etc

That the Centre continues to work towards equal opportunities guidelines that will include volunteers.

To be involved in decision making, principally via the volunteer representative on the management committee and at volunteer meetings

That you will gain from this experience as well as give to it. That you will share in the privilege of receiving from those who use the Centre and will be enriched by this experience.
The centre relies on grants and the generosity of Churches and individuals for its funding. We are grateful for all monetary 'one off' donations and there a few ways that you can donate.
You can set up a  one off or regular donations here online.
Organising a fundraiser? You can even set up your own fundraising page to raise money on our behalf. Please speak to a member of staff for more details on 0161 737 8775.
Cheque payable to  Salford Loaves and Fishes Ltd
Set up a Standing Order to make regular donations. Please complete a contact enquiry via the website or contact the Administrator on 0161 737 8775 to request a Standing Order Form.  
Also, if you are eligible you can Gift Aid your donations 
HERE
We greatly appreciate donations of non-perishable food and are happy to advise on the most suitable food. Our users greatly value the use of bathing facilities and so toiletries are always in demand. Clothing for both men and women are always very appreciated, again, we can advise on the most suitable items. We are currently in need of the following items:
Jars of sauces, tinned meats,
Sugar, coffee, tinned vegetables,
Flavoured noodles, tinned fish, tinned fruit, baked beans, tins of tomatoes and any other non-perishable goods.
Other items that would be useful are: Socks, boxer shorts, underpants, disposable razors, shaving gel,
Shaving foam, shampoo and shower gel.
If you require a speaker for your church service or group, please do not hesitate to contact us.
We would appreciate any deliveries/collections on Tuesdays if possible.
Registered Charity No. 1124460
You can raise funds for Salford Loaves and Fishes whilst you shop online.
Please visit https://www.easyfundraising.org.uk/causes/slaf/ to register.
It's FREE and easy to join! Once registered you can shop with your favourite retailers – there are hundreds to choose from. The retailer will then donate a percentage of the purchase to Salford Loaves and Fishes.
Slide
"For I was hungry and you gave me food, I was thirsty and you gave me drink, I was a stranger and you made me welcome, lacking clothes and you clothed me, sick and you visited me, in prison and you came to see me" Matt 25:35-36